Filtration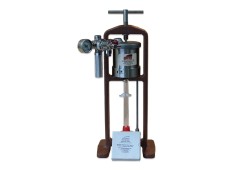 The OFITE low pressure filter press design features a cell body to hold the mud sample, a pressure inlet, and a base cap with screen and filter paper. Suitable for field and laboratory use, these units have become the industry standard for low pressure/low temperature filtration testing.
OFITE also manufactures other types of filter press units and inventories a full line of replacement and consumable parts. Stainless steel cases are available for most of the units. When several tests must be run simultaneously, as in a laboratory environment, multi-units are available in either two, four, or six-cell designs. These multi-units come complete with manifolds and all necessary air hoses and bleed-off valves. The field portable units are supplied with various pressurization assemblies and manifolds and rely mainly on carbon dioxide bulbs and nitrogen gas to provide pressure. The American Petroleum Institute (API) recommends a standard 100 ± 1.0 PSI (690 ± 6.9 kPa) cell pressure be applied within 30 seconds for a 30 minute test.
When high pressure and high temperature filtration measurements are required, HTHP filter presses designed specifically for simulating down-hole conditions are recommended. Test temperatures for all models may exceed 200°F (93°C), provided a back-pressure receiver is used to collect the filtrate. The components of the OFITE HTHP filter presses are fully interchangeable with those marketed by other manufacturers. Three different sizes are available to accommodate different requirements and preferences. The #170-00 series is a field portable unit with a 175 ml sample cell and a small power consumption consisting of two 200 Watt heaters. The test cell is encased in the heating jacket to ensure complete and uniform sample heating. Normally CO2 bulbs are used to pressurize both the cell and back pressure receiver, however other pressurization options are available. The #171-50 style HTHP filter press features quick connect couplings for pressurization. It is also portable and may be ordered with a stainless steel case (#171-81). The 175 mL filter press is designed for test temperatures up to 350°F (176°C). The #171-00 series is designed for test temperatures up to 500°F (260°C) and is equipped with a 500 ml sample cell and four 200 Watt heaters making it ideal for laboratory use. Also included is a regulator manifold system for connecting to bottled nitrogen for higher pressures. All HTHP units may be ordered with 115 Volt or 230 Volt power requirements. A multi-unit laboratory model is available and may be custom designed to your specifications. A wide variety of accessories and replacement parts are also available.
---