Kits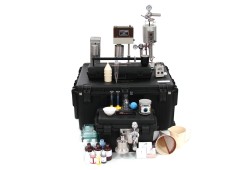 Following is a listing of the field and laboratory testing kits that are inventoried by OFI Testing Equipment. All kits may be custom designed to meet customers' individual specifications. Special requests and suggestions are always welcome.
Knowledge of the mud and filtrate properties are important in many drilling operations to ensure proper control of the mud chemistry. The proper equipment and reagents for running routine analysis in the field or laboratory are essential for any mud engineer.
The OFITE International Kit is the most complete and versatile test kit available anywhere in the world. It contains everything needed to perform a complete drilling fluid analysis.
OFITE's new Mud Engineer's Testing Equipment on Rollers (METEOR) Kit contains everything needed to conduct complete tests on water or oil-based muds - all in one waterproof, portable case.
The OFITE Oil Mud Laboratory contains all of the apparatus and reagents necessary for the complete analysis of oil muds in the field or in the laboratory.
The OFITE Airplane Kit is the most complete portable mud testing kit available anywhere in a single stainless steel carrying case. It contains all of the contents of the Offshore Kit plus a stopwatch, a metal thermometer, a portable mixer and reagents for testing calcium, sulfate, hardness, and alkalinity content, and has room for a retort and rheometer.
The OFITE Offshore Kit is a popular, basic mud engineer's kit containing a Sand Content Kit, pH paper, and all reagents to run alkalinity, chloride, or hardness analysis. All necessary glassware and equipment are included, and space is available for a retort and rheometer.
The OFITE Rig Laboratory incorporates all of the basic equipment needed to run routine mud checks into one convenient heavygauge stainless steel cabinet. It readily adapts to any work location and the hinged front provides a convenient work place for conducting tests.
Another popular kit is the OFITE Water Well Kit, which contains the same chemicals and glassware as the Offshore Kit plus a stopwatch, Sand Content Kit, marsh funnel, filter press, and mud balance.
The OFITE Basic Test Kit provides a convenient storage area for all of those items that never seem to stay in the same place. In addition to the standard mud balance, marsh funnel, and cup, there is ample room for equipment and extra chemicals.
---